国際交流
International Exchange
厦門理工学院との相互交流
Exchange Program with Xiamen University of Technology
 本校では2004年10月に中国福建省の厦門理工学院と学術交流協定を締結し、平成17年度から協定に基づく相互交流を開始した。
 平成17年7月〜8月に厦門理工学院から学生4名、教員2名を3週間受け入れ、授業・実験・課外活動への参加、工場・文化施設見学など学生及び教員の交流を行った。また、10月には本校から厦門理工学院へ学生4名、教員3名を派遣し交流を図った。
In October, 2004, our college reached an agreement of an academic exchange with Xiamen University of Technology in Fujian Province, China, and started a mutual exchange program in 2005.

In July, 2005, four students and two professors from Xiamen University of Technology visited our college and stayed with us for three weeks. They joined our classes, experiments and extra-curricular activities. They also visited factories and cultural institutions with our students and faculty members. In October, we reciprocated four students and three faculty members from our college to Xiamen University of Technology to promote the program.
第1回佐世保・中国国際交流フォーラム
 The First China and Sasebo International Exchange Forum
 平成17年度現代的教育ニーズ取組支援プログラム「日中相互交流による実践的若年技術者育成」事業に係る取組の一環として、本年度実施した佐世保高専と厦門理工学院との相互交流プログラムに関し、本事業への取組と活動実績を広く公表するため「第1回佐世保・中国国際交流フォーラム」を開催した。
As an activity for the program 'The Fostering of the Youth Engineers by Mutual Exchange between Japan and China,' which is the needs-based program assisted by 'The Distinctive University Educational Support Program (Good Practice [GP]) in 2005,' the First China and Sasebo International Exchange Forum was held in March, 2006. The Forum was intended to announce publicly the achievements of the mutual exchange program between our college and Xiamen University of Technology.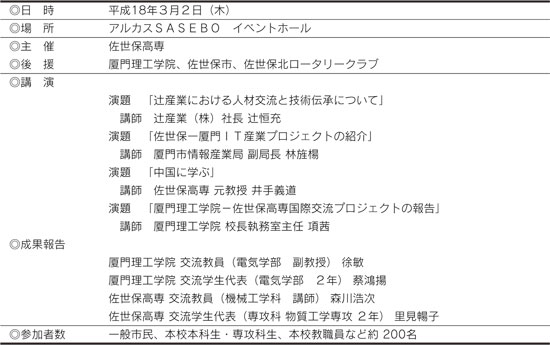 | | | |
| --- | --- | --- |
| | | |
| 厦門理工学院日本語学科の皆さんと | | 第1回佐世保・中国国際交流フォーラム |